Expense Management Services Tulsa OK
Managing your billing and invoicing process is both time-consuming and one of the most important parts of a business to manage its cash flow. Depending on your business this also can require many employees touching, approving, and entering this information into the various different systems requiring the data. E3 Bookkeeping is focused on automating the cash management process so the data is entered once, approvals are completed with notifications and the whole process is done quickly and at a very low cost. We take the number of moving parts and people that can cause problems and automate it so the cash management process is simplified for you.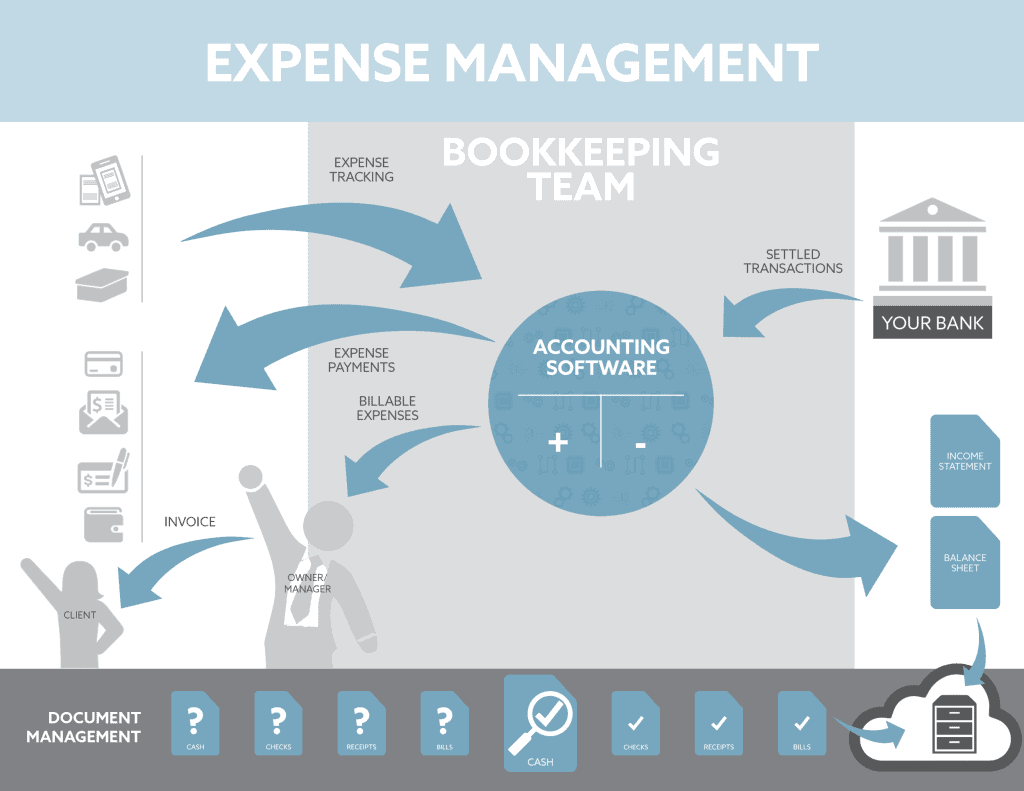 When you run a business, you and your staff spend money and incur costs that need to be reimbursed and categorized correctly. E3 Bookkeeping Tulsa uses a combination of expert bookkeepers and modern accounting software, mobile applications, and expense management tools to handle your expenses. You'll have the peace of mind that every expense is tracked, categorized, and reported accurately.
Holding onto receipts has long been a pain for the average business owner. Receipts get lost or damaged and when tax time comes, it's hard to remember why the purchase was made. Now, just take a picture of receipts on your phone, and E3B will categorize the expense in your accounting software, store the receipt image online, and make sure everything ties back to your business bank account.
Travel costs are another expense category that has traditionally been a hassle to manage. Miles traveled must be properly tracked in order to create an accurate expense claim. As with receipt management, mobile apps have removed the difficulty of tracking mileage. Using GPS on your smartphone, E3B will help your staff automatically track and report the exact number of miles traveled and ensure the expense claim is processed and categorized correctly.
Online Document Management
Audits are rare but do happen. In case one occurs, it's crucial to have access to all your historical business records. We'll organize and store all your documents online so they're out of your way but always within reach.
Regular Reports Highlighting Your Business Performance
Accounting reports serve many purposes. They're not only required to file taxes and apply for lending. They can also be used to teach you what you're doing right and what can be improved. E3B's bookkeeping team will provide you an income statement, balance sheet, and statement of cash flow every month so you have a strong understanding of your business performance.
Paying bills is a major part of managing your business. Your payables affect your day-to-day cash flow and your profitability. E3 Bookkeeping (E3B) uses modern accounting software and online bill payment tools to track, record, and report your payables.
All Your Bills Get Paid On Time
Keeping track of who you owe money (and when it's due) can be tough when you're running a business. With E3B, you upload your bills, either by scanning the bill or taking a photo, and we'll schedule them to be paid on time. All you have to do is log in and approve the payments and we'll do the rest.
Up to date financial insight, whenever you need it!
The only way to know how much cash your business has on hand is through regular bank reconciliation. When you're a business owner, it's easy to fall behind in balancing your books. The E3B team reconciles your accounting records to your bank details weekly or monthly depending on your needs. You'll always know which bills, expenses, and even inbound revenue have cleared, giving you an up-to-date view of your business's cash flow!
Online Document Management
It's uncommon to get audited but you can prepare for the unexpected by having all your historical business records easily accessible. Your E3B team will keep all your documents neatly organized online, so they're not in your way but still within reach.
Regular Reports Highlighting Your Business Performance
Your accounting reports shed light on what areas of your business are doing well and what can be improved. E3B will generate an income statement, balance sheet, and statement of cash flow monthly and even walk you through the major findings. Accounting reports not only detail everything impacting your business's bottom line. They'll also be needed when it comes time to file your taxes or apply for loans/other funding.
The E3 Bookkeeping expense management service is designed to take the burden away as much as possible by putting the original invoices and bills into one place, allowing everyone required to review, approve and manage the cash flow process the ability to work together in a timely fashion. We believe E3B can speed up your cash flow while also significantly decreasing the cost of managing this process.
E3 Bookkeeping will process both your bill pay and invoices depending on your needs. We use a general ledger and bill payment software and applications including Bill.com and QuickBooks depending on your requirements.